---

Where you fit in 💪
Thanks to our 22 Partners and all our supporters
Sarah Alyssa Julianna Chris Aolani Gabi Mackenzie Felix Shauna Eric Brett Summer Ann Niki Kirsten Valeria Zachary Christopher Skelly Matthew Jesse Jenna Joyce Will Ree Trish Jen Ginger Nathan Megan Mikey Sage Eric Luciana Casandra Shane Elan Christine Brie Katie Joshua Mellody Michaela Aimee Nikki Sam Dana Briana Anja Jacqueline Lara Erin Sean Lera Tricia Evelyn Lamaur Emily Moses Richard Shelby Chaundrea Daniel David William Bridget Cheryl Vinh Rachel Andrea Meghan Joe Chelsey Paul Jesse Charli Nolan Emma Robin Maggie Mandy Will Vickey Jazzmin Jenny Brandon Jeff Donald Emily Carlos Christine Claire Ryan Michael Sofia Yanina Andrew Andrea Samantha Becca Ellen Matthew Samantha Julianne Kaitlin Kayla Brittany Rob Bill Trevor Matt Sam Lynn Allison Karis Alexa Stevie David Dan Donny Ris Vickey Doug Jeff Laura Kimmie Christine Amy Will Liv Jack Phil Angela Sara Kim Jonathan Shannon Andrew Anne
Out Fitness Collective is a queer and allied community sharing affordable fitness programs and a private studio in Cleveland's Detroit Shoreway neighborhood. Together we practice strength, endurance, and self-care so we each feel stronger in our own bodies. Our studio is available by appointment only (no walk-in visits, sorry), so schedule a studio tour or plan your workout!
WORK OUT
OUR PRICING
pay as you go
$6
+

/workout

Book private studio time for your solo workouts or join a pay-what-you-can class by our community instructors!
✦✦✦ Partner Plan ✦✦✦
$30
+

/month

Unlimited private studio time
with free guest and drop-in privileges,
plus $1 off every class

As a Partner, your support keeps our shared studio going and helps to cover costs for other community members. Thank you!
There are no startup or annual fees ever at Out Fitness. Join us whenever is best for you!
Our pricing is flexible so you can contribute according to your resources. When you pay more for your workout, you make it possible for another community member to pay only what they can afford. This collective model allows us to be more welcoming and inclusive than a standard gym.Can't work out right now? Make a donation to help us care for our studio. Thank you!
our studio
Private studio with two rooms, secure entry, and wireless A/V

Strength, cardio, and functional training equipment (with helpful QR codes)

Complimentary coffee, tea, and vegan-friendly snacks

Convenient location on a 24/7 bus line with adjacent bike and car parking
HELP OUT
---
DONATE
Make a donation to help us continue caring for our studio and providing affordable fitness options for our community. You can donate monthly or just one time. Thank you!
---
SHOP
Out Fitness merch is available to show your pride! Proceeds benefit our mission.
You can also order IQ protein bars or MyProtein powder with our referral discount links to give a percentage of your purchase to Out Fitness. Both products are vegan-friendly.
---
TEACH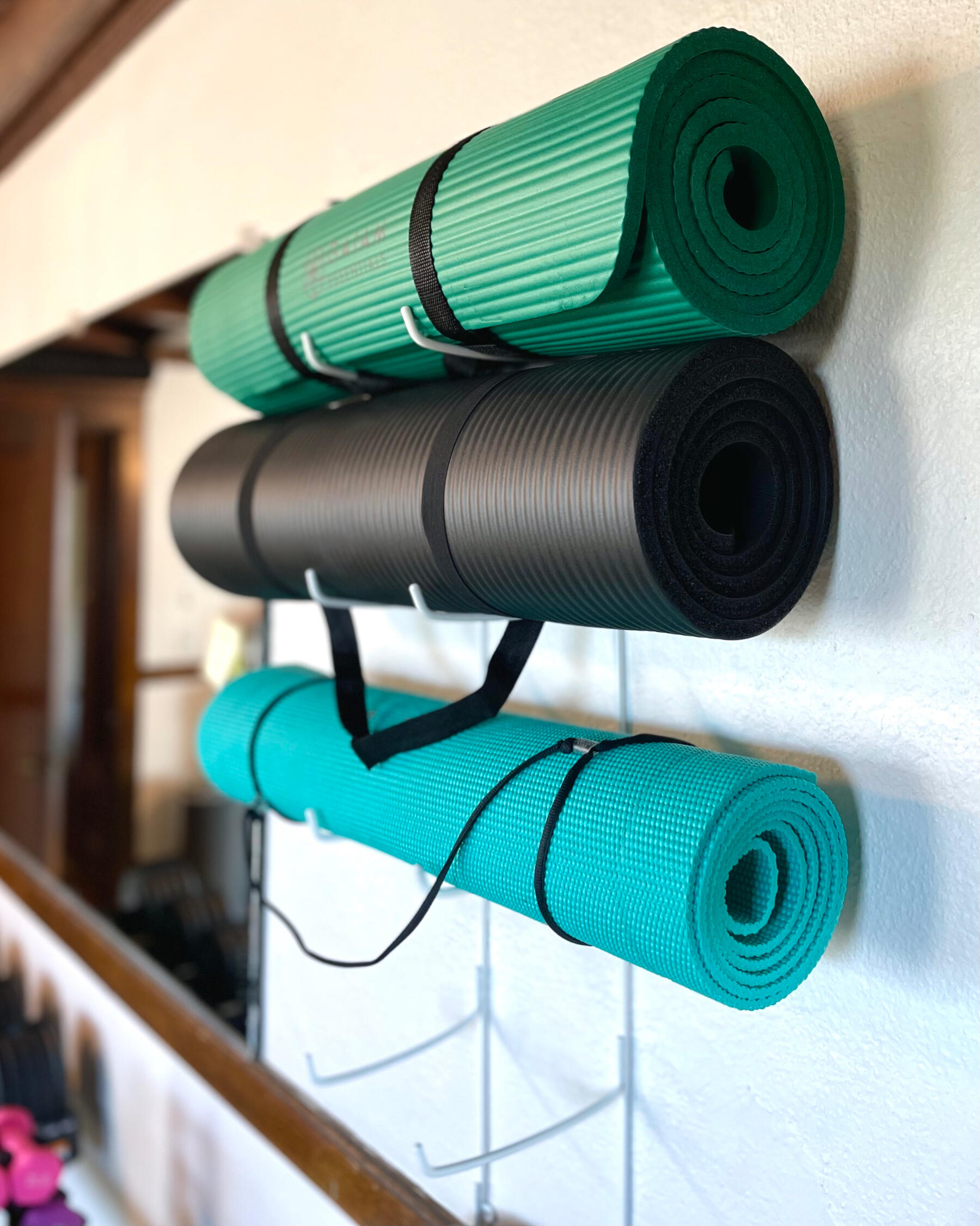 As a collective, we welcome your gifts! Teaching a class or workshop is a great way to grow your practice while benefitting our LGBTQ+ community.You can teach in-person participants or use the studio to teach online! We provide the space and registration system, and your participants will tip you directly.Please consider offering:
Strength and resistance training

Cardio, aerobics, HIIT, or TRX

Yoga, stretching, low-impact, or chair routines

Mindfulness and other wellness practices

Self-defense or basic martial arts
---
About Out
Founded by JJ in October 2022
Crowdfunded by 50+ friends, family, and neighbors
Located in the historic Randolph building (1910)
Powered by your workouts
Fit in
Out Fitness is a safe, welcoming place for members and allies of our LGBTQ+ community to practice fitness. Together we create a better exercise experience: beginner-friendly, privacy-focused, self-caring, body-affirmingRead our studio rules to learn how we care for our private studio as a collective. Join our online group to connect with our community.
We recognize and share our abundance of talents and resources.

We celebrate equity and take power from experienced marginalization to build a more inclusive community.

We respect each other's identities, privacy, personal space, and time as well as our shared space and equipment.

We create safety by never tolerating language or behavior that demeans or harms.

We believe wellness is felt and owned by each person and their unique body, not seen or judged by others.
Equipment list
Inspire FTX cable machine (up to 165lbs) with attachments

Concept2 RowErg rowing machine

Concept2 SkiErg skiing machine

Dumbbells (hex and adjustable, 10-50lbs)

Kettlebells (5-44lbs)

Resistance bands, ankle weights, & lightweight dumbbells

Medicine balls (10-20lbs)

Treadmill with incline (out of service)

2 indoor cycles (spinning bikes)

Suspension ("TRX") training straps

HandyGym flywheel resistance trainer

Pull up bar

2 adjustable benches

Decline crunch bench

Squat / back extension station

Yoga and exercise mats

Foam roller and blocks

Aerobics step platforms

Weighted training bar (10lbs)

Push-up accessories

Video/photo tripod

Smart TV, wireless speakers, projector, and wi-fi
drop in
Current Partners with a valid studio access code can drop in for private workout time (without scheduling in advance).Check the calendar to see if the studio is currently available:
Please scan the studio door QR code when you arrive to instantly block 1 hour of time on the calendar. Thanks!Want to reserve your studio time instead? Book here.
Reserving one hour...
You've just booked one hour of time on the studio calendar. Have a great workout!

RULES
Every guest must sign our waiver before using our facility or services.

Every guest must be at least 18 years of age OR at least 15 years of age and accompanied by their guardian.

Never share your access code with anyone. All entries with your code are attributed to you.

Facility use is restricted to the hours between 7am and 10pm every day and by appointment only.

When leaving, ensure the studio windows are locked and the keys are inside the lockbox. Keep the exterior (W 74th) door locked at all times.

Out Fitness guests are restricted to our two studio rooms (northwest and southwest) and the shared restroom area. The remaining offices on the floor are private.

No discrimination or harassment of any kind. Act according to our values.

No more than two (2) people may use the studio simultaneously, unless supervised by an instructor during an instructor rental.

Always wear clean shoes or socks in the studio rooms.

Please bathe within 24 hours prior to visiting our studio. There is no shower at our facility.

Do not drop or slam weights.

No bottles or liquids on the hardwood floors, and no incense or flames anywhere in the building.

If you cause a mess, clean it up immediately. Dispose of all trash in the trash cans.

At the end of your session, wipe down equipment and return every item to its starting place along the room perimeter.

Keep all sounds below a shouting volume and refrain from any derogatory or sexually explicit music/audio.

Please compensate your instructor for each class with a tip (minimum $5).

If equipment/facilities are damaged or unclean, or if the doors or keys are unsecured, send a text message to 216.250.2098 immediately.